Accidentally Awesome Oat Date Cookies (Vegan, Gluten-Free)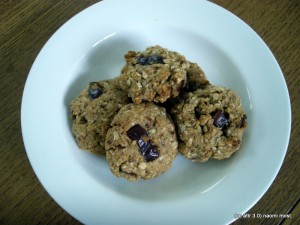 These chewy, slightly nutty, perfectly moist little oat-date cookies were a complete accident.
[The following is a complete account of how I arrived at devising this recipe, which is quite possibly very boring. If you want to skip ahead to the actual recipe, it's at the bottom.]
On Sunday night I caught a serious baking bug and decided I wanted to use shredded carrots in something. On the back of my package of Bob's Red Mill Amaranth Flour is a recipe for amaranth carrot cookies. That sounded pretty good, but I didn't want to make cookies; I wanted bars. Gluten-free (because I feel better that way), carrot-cake-tasting, chewy bars.
Oh, but oops: I ate the last 2 eggs this morning. Ok, so it'll have to be vegan too.
So I looked online for vegan blondie recipes, finding this wholly approachable gluten-free gem ("Blondies") on TheSensitivePantry.com. That might have worked, but I lacked the egg replacer and the applesauce.
Besides that, the next recipe reference I found was for carrot cake bars which included raisins and pineapple. Oh yeah, pineapple! Can't have carrot cake without pineapple.
Finally, a nice looking (but not gluten-free) vegan carrot cake recipe revealed the solution to my particular no-egg problem: flax seeds. Ah, yes! 2 tablespoons of ground flax, hydrated with a bit of water, will replace 1 egg, though not without a bit of nuttiness and perceptible addition of fiber.
I stared at these recipes for a good 10 minutes, then threw a bunch of stuff in a 9×13″ glass casserole and baked it. It took a long time to bake (35 minutes), and I am not good at waiting.
So I stared at all the ingredients I had out in front of me and said, "what can I throw together with all of this stuff that would bake in about 10 minutes?"
Yes, this is how my mind — nay, my whole life — works.
Using roughly the same stuff as the carrot-pineapple bars in the oven, but resolving to reduce the amount of wetness after I saw how mushy were the bars-which-were-not-much-like-bars-at-all, a cookie batter emerged that I could tell would be perfect for oats. But I was fresh out of raisins… ah hah! These dates would do. I'd never cooked with black sphinx dates before, but since these cookies were a total experiment, I figured it was a good time to try.
The resultant cookies from this "method" were so amazing, I could hardly believe my luck at finding all the ingredients scribbled down afterwards. Thanks, younger me!
Well, here are the accidentally awesome oat date cookies.
Ingredients:
[dry]
1 C coconut flour
1 C Bob's Red Mill gluten-free biscuit and baking flour
1/2 tsp baking soda
1/3 tsp salt
1 tbsp cinnamon
[wet]
5 Tb flax seed, freshly ground + 1/3 C water
1/2 C + 1 Tbsp oil
1/2 C honey
1/2 C light brown sugar
1 tsp vanilla
[fillings]
2 cups quick-cooking oats (you could try regular oats; let me know how they turn out)
1/2 cup chopped dates (I used fresh black sphinx dates, which were delicious)
What to Do:
Preheat the oven to 350 degrees F.
Whip up the ground flax seed and water in a large bowl as if they were eggs. Leave to rest for at least 10 minutes. Do the next 3 steps while you're waiting.
Mix up all the dry ingredients in another large bowl.
Pull out 2 baking sheets and grease them with a little coconut oil (or cooking spray, if you must).
Make tea.
Stir the rest of the wet ingredients into the flax seed mush, starting with the oil, then adding the brown sugar, and finishing with the honey.
Gradually pour and stir the dry ingredients into the wet ones.
You should now have a relatively wet batter that is ready to accept the "filling" ingredients. Start by stirring in the dates, trying as best you can to get them evenly distributed. Then stir in the oats a half-cup at a time. This will probably become physically difficult by the second cup. Your batter will be really sticky, as demonstrated by the picture.
Shape batter into 2- or 3-inch cookies about 1/2-inch tall on the baking sheets. These cookies will not change shape one iota when they bake. So I guess you could make fun shapes or something, if you wanted.
Bake for 12 minutes at 350 degrees F. For me, 12 minutes was PERFECT, but do check them after 10 minutes. They should look just slightly brown on top and on the edges.
Straight out of the oven, these cookies are a little odd. Go ahead and try them, but I guarantee you'll like them better after they've rested and cooled. I liked them the best when I had to feed Calvin at 4am that morning.