Pad Thai via Maria
Mario Iorillo, my homebirth midwife, posted a pad thai recipe in her most recent newsletter. Normally I would just link to it, but as a third-party newsletter archive rather than a blog post, I'm hesitant to rely on its being there again when I need it. So here's the recipe, copied in full from Maria's newsletter.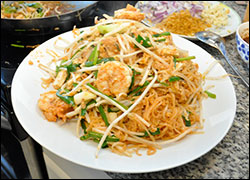 Sirijit Lertkhachonsuk (Sandy Lo) is pregnant and having twins. When we first got together and I learned that she is Thai and Chinese, I immediately wanted to see if we could trade part of her fee for Thai cooking lessons. Her mom, Aeed, is a fantastic cook and agreed to teach me how to make Pad Thai.

Here is the Recipe and photos:

Bean Sprouts
2 bunches green onions
I hand full of Chinese Chives
Firm Tofu (looks like it is fried on the outside)
4 cloves garlic
2 eggs
Fresh Rice stick noodles "skinny noodles"
Salted, pickled Turnip
1 pound shrimp, preferably with heads on
6-8 shallots
Soy sauce with Mushroom (Healthy Boy Brand)
Fish Sauce (Three Crabs Brand)
Tamarind Concentrate (Butterfly Brand)
Canola oil
1 Lime
½ cup chopped peanuts
Clean 1 fist full of Chinese chives
Peel 8 shrimp and set aside, remove head but do not wash
Slice ½ block of tofu into small sticks
Rinse bean sprouts and drain
Rinse green onions and drain
Chop Chinese chives and green onions 1 ½" long
Chop shallots
Chop garlic
Open noodles and cut into thirds, pull apart

Make sauce:
6 T. Soy sauce with mushroom
3 T. Fish Sauce
2 heaping T. sugar
2 heaping T Tamarind concentrate
Ground red pepper to taste (up to 1T)
In a wok or non-stick pan:
Let 4T oil get very hot, shimmering but not smoking
Stir fry 2T shallots and 1T garlic to slightly brown
Add 3T salted Turnip and continue to stir fry
Add ½ c. tofu, stir fry
Add Shrimp, stir fry until almost fully cooked
Add 2T. of water if ingredients are sticking to bottom of pan
Add 5 T of mixed Pad Thai sauce
Add 2 large handfuls of noodles
Add 2 T oil
Crack 2 eggs over the noodles
Let the eggs cook for about 30 seconds, then turn the noodles, folding the noodles over and mixing in with the other ingredients.

When the noodles are soft and the eggs are cooked, stir in the green onions, Chinese chives and the bean sprouts. Plate and garnish with squeezes of lime and chopped peanuts.